Barbie: Life in the Dreamhouse
Talk

12
1,418pages on
this wiki
Barbie: Life in the Dreamhouse



Studio

Producers

Rob Hudnut, David Wiebe, Michelle Cogan and Dan Mokriy

Writers

Robin Stein, Barbara Haynes and David Wiebe
"
Ultra Glam. Super Fun. Totally Barbie. Barbie Life in the Dreamhouse gives fans a glimpse of what its like to live in the best house in the toy aisle.
"
Barbie: Life in the Dreamhouse is a CGI-animated reality show and sitcom produced by Rob Hudnut, David Wiebe and Michelle Coogan at Arc Productions and distributed by Mattel. It first aired on December 4, 2011, but officially premiered on May 11, 2012 and airs online on Barbie.com, YouTube and Netflix. When the show is airing, a new episode debuts each week and is translated into 21 different languages, and it is both mobile and tablet-optimized.
The official website for the show has profiles for each character and a map of Malibu, as well as the B Friends game where users can interact with the characters and complete tasks. Barbie: Dreamhouse Party, the videogame based on the show, features characters and the setting from the show and lets the player explore, play mini-games and customize characters. Other merchandise for the show includes books based on the episodes and a line of dolls and playsets. There is also a real life replica of the Dreamhouse for fans to visit in Bloomington, Minnesota at Mall of America.
Premise
Set in a fictionalized version of Malibu, California, the main cast of the show consists of many dolls: Barbie, Ken, Summer, Midge, Nikki, Teresa, Raquelle, Ryan, Skipper, Stacie, Chelsea, Blissa, Taffy and Tawny.
Episodes
| Season | Episodes | Dates |
| --- | --- | --- |
| 1 | 1 - 14 | May 11 - July 17, 2012 |
| 2 | 15 - 23 | October 12 - December 7, 2012 |
| 3 | 24 - 31 | February 6 - March 27, 2013 |
| 4 | 32 - 40 | June 26 - August 21, 2013 |
| | 41 - 45 | October 2, 2013 - October 30, 2013 |
| 6 | 46 -  | Febuary 5, 2014 -TBA |
There are also several bonus videos and two specials.
Netflix
Episodes of the show became available on Netflix on October 4, 2013. It's official description is:
| | | |
| --- | --- | --- |
| " | Join blond icon Barbie and her pals as their behind-the-scenes adventures are revealed in this animated Web series. Comfortably housed in her Malibu mansion, the doll with it all invites viewers to share her fabulous, fashion-forward lifestyle. | " |
Season 1, Episode 1: "Barbie: Life in the Dreamhouse" - This episode was added on October 4, 2013. It consists of "Trapped in the Dreamhouse" and "Perf Pool Party".
Season 1, Episode 2: "Barbie: Life in the Dreamhouse Shorts: Best Of" - This episode was added on October 4, 2013. It consists of "Closet Princess", "Closet Princess 2.0", "Closet Clothes Out", "Licensed to Drive", "Primp My Ride", "The Shrinkerator", and "The Upgradening".
Videos
Trailer
Music Video

00:31

Barbie™ Life in the Dreamhouse - All-New Web Series!

00:49

Barbie™ Life in the Dreamhouse - Teaser Video
Barbie: The Dreamhouse Experience
For more informations, see Barbie: The Dreamhouse Experience.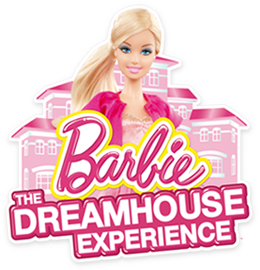 Barbie announced in Febuary 2013 that she would be moving out of the Dreamhouse, so, as part of a year-long campaign, a life-sized Barbie Dreamhouse will be opening on March 2, 2013 at Sawgrass Mills in Sunrise, Florida, for fans to visit. Barbie: The Dreamhouse Experience (
www.barbiedreamhouse.com
), is an interactive opportunity where fans of all ages can tour the Dreamhouse. The Dreamhouse is inspired by the Barbie Dreamhouse toy and
Barbie: Life in the Dreamhouse
. It will also be in Berlin, Germany
The Dreamhouse has personalized touches and more than seven different rooms and areas such as the living room, bedroom, closet, bathroom, kitchen, balcony, and entertainment room, and an elevator is taken from room to room. In the kitchen, there will be a cupcake island for guests to customize a digital cupcake. In the closet, guests can digitally wear Barbie's clothes. There is also a Paris fashion area.
The Dreamhouse also includes more than 350 Barbie dolls and other collector memorabilia. Each guest will receive a bracelet infused with RFID technology upon entering the Dreamhouse. This bracelet will serve as the key to enjoying a personalized tour through the Dreamhouse including photo opportunities. Fans also can purchase the exclusive Barbie Dreamhouse Doll and doll accessories at the Barbie Dreamhouse boutique. Ticket prices range from $14.00 – $29.99 and are available for purchase at www.ticketmaster.com. Barbie changed her mind and decided to stay in Malibu to be near her friends and family.
Trivia
Many of the episode titles are puns.
The last episode of season 1, "The Barbie Boutique" was released on Wednesday instead of Friday. It may have been a mistake, as members of the show's tie-in game, B Friends, were experiencing problems on the website.
External Links
See Also
Feature Length Barbie Movies