My Scene (film series)
Talk

0
1,465pages on
this wiki
My Scene is an American series of fashion dolls created by Mattel in 2002, the same company who makes Barbie dolls. The My Scene dolls are a blend of Barbie dolls as well as Bratz dolls so they can appeal to people who buy both dolls (The My Scene dolls have the Barbie doll's height and feet, but the Bratz-like shoes, large heads, slim but curvy bodies, heavy makeup, and the large lips and eyes). Movies originated from the short cartoons broadcasted on the official My Scene website, and also, dolls began to be packaged from 2003 with DVDs that also contained short video clips, music, and activities.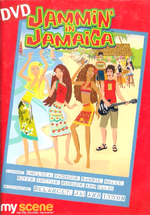 On March 7th 2003, the first My Scene movie was released on DVD: My Scene: Jammin' in Jamaica. In the movie, River, Sutton, Ellis and Hudson are all in a band named Urban Desire. The boys and Madison, who is the manager of the band, win a contest and travel to Jamaica for the finals, but Barbie, Nolee, and Chelsea, who meet up with Delancey in Jamaica, also go to Jamaica by raising money to get there and suprising the boys with their visit. However, Barbie is upset to find out that Madison and River, the lead guitarist of Urban Desire, are spending more time together due to the contest. Barbie and Madison fall out, but the rift between the friends is resolved with Urban Desire's last performance. The movie was directed by Eric Fogel, and was approximately 56 minutes long.
Released on 20 June 2003, My Scene: Masquerade Madness was about the My Scene girls planning a 16th birthday party for their friend Chelsea. They are doing a fund-raiser fashion show for the local animal shelter, so, because Chelsea loves fashion, Chelsea designs the outfits. Unfortunately, a few problems are aroused: Delancey, who feels like she will accidentally tell Chelsea about the secret birthday party, due to Delancey being bad at keeping secrets, stops talking to Chelsea altogether, making Chelsea think Delancey no longer wants to be her friend. However, the girls simply tell Chelsea that it is because Delancey has a crush on Hudson, Chelsea's love interest. Also, Chelsea and Hudson are pretending to be dating so the girls do not find out that Chelsea is failing Geometry, because Chelsea is too embarrased to tell them. This is all due to her focusing only on designing clothes for the show. Hudson tries tutoring her in Geometry, but Chelsea decides to quit the show, because of her problems with Geometry. Nolee shows Chelsea that designing clothes can be like Geometry, and she show is a success, as well as Chelsea's Geometry test, and also as well as the suprise birthday party. This movie was only 23 minutes long, half the length of the previous movie, Jammin' in Jamaica.
My Scene Goes Hollywood is the first feature length My Scene film. It was not released alongside dolls like the previous two movies, but dolls were created of the characters in the movie, as well as the new characters, such as Lindsay Lohan, and Ryan Ridley. This is also the first film with Kelly Sheridan starring in it, as well as a celebrity voice (Lindsay Lohan). In the movie, Lindsay is in New York, where the My Scene girls live, to film a movie. Delancey wants to get a closer look, so she tells the directors that she and the girls are film extras, and they get to be in the first shoots of the film. However, Chelsea does not get to be an extra; she only gets to mop up sweat. This is a recurring joke in which Chelsea gets picked to do a disappointing job, and due to her shyness, cannot complain.
Madison, on the other hand, gets picked to replace the main female antagonist of the film when the original actress is injured, and starts spending more time with Lindsay and Ryan, in night clubs and on dates (with Ryan) and less time with the girls on set, and Madison also ignores the girls when they come over for a sleepover. Madison develops a crush on Ryan and, because they are pictured together in a newspaper, and Madison is referred to as Ryan's "mystery girl", Madison thinks that she and Ryan are boyfriend and girlfriend. She is greatly upset when he informs her otherwise, and because the girls have fallen out with Madison because Madison became a snob, and got embarrased by the girls, Madison stays in her room crying and does not know what to do, due to her losing her best friends. Lindsay convinces the girls to make up, and they get together for the premiere of the movie. In the end, the girls and Lindsay go to watch their movie, and snub Ryan when he tries to get Lindsay away from them. The film was directed by Eric Fogel, like the other My Scene films.