Talk:Barbie and The Secret Door
1,207pages on
this wiki
Confirmation
If you look at the Trademark information for other Barbie movies, it was copyrighted by the same person and has the same information. --XTinkerBellx (talk) 18:45, October 19, 2013 (UTC)
Animated at Rainmaker Entertainment Inc
Dave Ladner and Tony Tsai, who work at Rainmaker Entertainment Inc, are working on the animation for the movie. --XTinkerBellx (talk) 18:45, October 19, 2013 (UTC)
Voices
"Cast includes Kelly Sheridan, Katie Crown" --Peace out! XTinkerBellx, admistrator. 14:26, December 9, 2013 (UTC)
Ok guys so I know we're not supposed to put rumours and we need proof but we dont have a page for this thing so im just gonna write it here, so on fanpop I heard next year there's gonna be a new barbie movie for christmas "Barbie Sugar Plum Princess" and on mattelken blogspot and fanpop they have a picture of the barbie doll and it also says insprired by dvd but this could be part of secret door so here's link [2][http:// http://www.fanpop.com/clubs/barbie-movies/images/36200195/title/2014-barbie-christmas-ornaments-collection-photo  http://www.fanpop.com/clubs/barbie-movies/images/36200195/title/2014-barbie-christmas-ornaments-collection-photo] Happyboy88 (talk) 18:52, December 15, 2013 (UTC)happyboy8899Happyboy88 (talk) 18:52, December 15, 2013 (UTC)
Book and Ornament
The doll and the herorine from the book look the same i think it is a princess movie as the other ones.
PrincessCharmingShy1 (talk) 15:15, January 29, 2014 (UTC)
Trailer
Since I can't edit the page I'm just here to say that the trailer came out since I can't edit the page link http://www.youtube.com/watch?v=uw2LZKcZe0U
Release date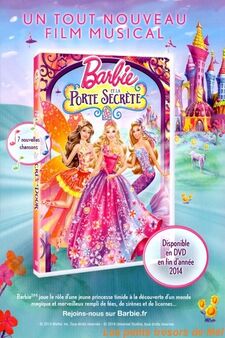 Barbie and The Secret Door
will be released at September 1, 2014 with 7 original songs.
PrincessMariposaBarbie
(
talk
) 19:09, March 17, 2014 (UTC).
Plot and other characters names
Someone writting the official plot in Espanol, which I translated into English with Google Translate (because I don't understand Espanol)
Espanol:
En esta mágica aventura musical, estrellas de Barbie como Alexa, una princesa tímido que prefiere leer que realice sus deberes reales. Mientras caminaba por el jardín real, Alexa descubre una puerta secreta en su reino, al igual que el que está en el libro que está leyendo! Da un paso a través de la puerta y entra en una tierra caprichosa lleno de criaturas mágicas y sorpresas. Alexa se reúne Romy y Nori, una sirena y un hada, que explican que un gobernante malcriado llamado Malucia está tratando de tomar toda la magia en la tierra. Para su sorpresa, Alexa tiene poderes mágicos en este mundo, y sus nuevos amigos están seguros de que sólo ella puede restaurar la magia a su tierra. Descubre lo que pasa cuando Alexa encuentra el coraje para defender lo que es correcto y se entera de que el poder de la amistad es mucho más precioso que la magia.
Translated into English:
In this magical, musical adventure, Barbie stars as Alexa, a shy princess who would rather read than perform her royal duties. While walking through the royal garden, Alexa discovers a secret door in her kingdom, much like the one in the book she's reading! She steps through the door and enters a whimsical land filled with magical creatures and surprises. Alexa meets Romy and Nori, a mermaid and a fairy, who explain that a spoiled ruler named Malucia is trying to take all the magic in the land. To her surprise, Alexa has magical powers in this world, and her new friends are certain that only she can restore magic to their land. Discover what happens when Alexa finds the courage to stand up for what's right and learns that the power of friendship is far more precious than magic.
From the plot it was known the mermaid and fairy named Romy and Nori, and (maybe) the antagonist named Malucia. No way, Mattel recycling Nori's name with Nori from Mermaidia! Again, after Alexa's name! PrincessMariposaBarbie (talk) 12:36, March 28, 2014 (UTC).
Release
I think Barbie and The Secret Door is going to be released at September 1st in France. As for the synopsis, Nori might be the name of the fairy. I think this movie is going to be cool as it's a musical i wish there is a villain song we don't have one since Barbie as The Island Princess but i want one only but i don't like villains but i am just saying we don't have one for so long. And I am waiting the official trailer very impatiently. PrincessCharmingShy1 (talk) 18:12, April 2, 2014 (UTC)
Trailer and a little trivia
The trailer of Barbie and The Secret Door.
A little trivia: See at 0:25-0:29 and heard the dialogue between Alexa and her friends:
Alexa: "Remember the story about the boy and the flying carpet?"
Brunette haired girl: "What's a carpet?"
Strawberry-blonde haired girl: "What's a boy?"
Alexa: "Nevermind."
Don't you think it was a referrence to t he story of Aladdin (Disney's 1992 film)? If you a fan of Disney, you must be know about it.
FrostiesPrincess (talk) 16:25, Wednesday, May 21, 2014  (UTC)
It looks the same
That's weird the fairy's doll was being used in this picture from Barbie's Twitter during January. I think she spoiled the movie a little. PrincessCharmingShy1 (talk) 10:26, May 22, 2014 (UTC)
DVD Cover
The DVD cover image in the page does not look good it does not look bright i say wait for it to be released soon in any website if possible i'll find it soon by June or July or August. And the trailer is awesome! Looking forward in the Fall/Autumn. PrincessCharmingShy1 (talk) 15:10, May 26, 2014 (UTC)
Anything is Possible
For anyone who think "Anything is Possible" is a song from Barbie and The Secret Door it is actually Barbie's anthem by Fifth Harmony not the song for the movie it is just a music video like the Barbie: Life in the Dreamhouse theme song which was also included in some DVDs as a music video here's the link for "Anything is Possible" http://www.youtube.com/watch?v=lnYwAxgAmUQ. PrincessCharmingShy1 (talk) 18:53, July 20, 2014 (UTC)
Characters
Here's SPOILERS http://www.amazon.com/Barbie-Secret-Door-Junior-Novel/dp/0385386273/ref=sr_1_2  the look inside has chapter 1 and characters SPOILERS and "What's Gonna Happen" Lyrics spoiler. I am just sharing it's your choice you can read and if you don't want spoilers ignore the link anyway. PrincessCharmingShy1 (talk) 12:16, August 18, 2014 (UTC)
Pre-order and more!
Barbie and The Secret Door is now available for pre-order in itunes, amazon, Mattel, toysrus, etc. And Barbie.com and Barbie's official youtube channel has been promoting the movie a game called Barbie VIdeo Mixer had Barbie and The Secret Door scenes, music previews so how you'll experience the film by downloading or buying the actual DVD or Blu-Ray. PrincessCharmingShy1 (talk) 12:30, August 21, 2014 (UTC)
Full Movie Online
I've just saw the movie on princessmovies.net. You can see it [link deleted by admin]. Albina von Roth (Witamy na Górnym Śląsku!) 19:57, August 24, 2014 (UTC)
---
Please do not add links to pirate copies. They are illegal so do not share them, especially on this wiki. --Peace out! XTinkerBellx, admistrator. 19:40, August 29, 2014 (UTC)